Taste buds and Oppenheimer
"I am become death, destroyer of local attendance records."
The Fake Science Laboratories apologize for the drunken rant against guanine.
This week's lesson
This day in science history: Oppenheimer's loss to Oppenheimer
January 21, 1955
Ten years after the Trinity test of the atomic bomb in New Mexico, J. Robert Oppenheimer found himself at a crossroads. Though recently named the chair of the Institute for Blowing Things Up Good And Powering Toasters, the post was largely ceremonial. It was on a return trip to the Institute for Advanced Study at Princeton that he found a renewed sense of purpose.
Albert Einstein, known to most of his friends as Al and most of his enemies as Bert, saw Oppenheimer just a few months before his death. His journals record their meeting:
Told J. Rob to call me Al. That's catchy. Call me Al.

We went to the SPWALW Gala.
The SPWALW stood for "Smart People Who Also Like Wrestling," and the gala was simply a meetup at a local semi-professional wrestling match held in an exceptionally large Elks hall. Oppenheimer was rapt — and he immediately took up wrestling.
Inspired by the Bhagavad-Gita once again, he called his character "Death." Al Einstein composed dramatic introduction music for the violin. And just a week later, Oppenheimer was half-nude, posed on the upper rope of a repurposed boxing ring, shouting his catchphrase, "Now I am become Death, the Destroyer of Worlds." His first opponent was a guy dressed up like a super buff clown. Oppenheimer won handily.
As a popular "heel," Oppenheimer toured much of the Northeast until April — when he met his match. In Sudbury, Massachusetts, he faced off against plumber Leo Caterri, who moonlighted as his own dream wrestler: J. Robert Oppenheimer. Wearing a spandex suit jacket and carrying a prop cigarette, "Oppenheimer" faced off against a confused and self-conscious "Death." The real Oppenheimer shouted "I am become Death," but Caterri replied, "I am become Oppenheimer, maker of atom bombs."
He then proceeded to out-wrestle Oppenheimer at every turn, winning over the crowd with heroic gambits and screaming that he was "The Coordinator of Rapid Rupture." Caterri finished off Oppenheimer with "The Mushroom Cloud," a pile-driver that left Death on the ground, uninjured but ashamed.
"I am become retired," the real Oppenheimer shouted over the crowd's cheers for Caterri. "I think I'll go back to boating."
From the Lab
You can support our science by forwarding this newsletter to a friend or sharing it.
Today's classic lesson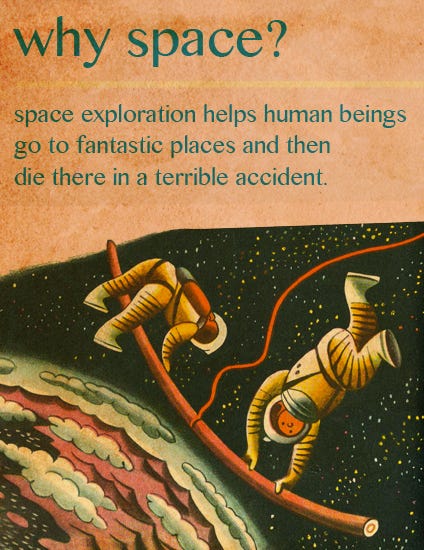 Not a subscriber yet?